"
I wanna sit like that. I wanna look like that. I need those guilt points. And the only way to get them is if no one remembers my birthday.
"
Stuck in the Sweet Seat is the second episode in season 1 of Stuck in the Middle. It aired on March 11, 2016 to 1.6 million viewers.[1]
Summary
Harley's parents forget her birthday, so she devises a plan to use their guilt as a way to get the ultimate birthday gift. Daphne also eats Harley's birthday cake, and asks for 20 bucks to keep her birthday a secret .
Plot
It's Harley's birthday and she is excited to go down stairs and get all the special birthday-kid treatment. Unfortunately, no one remembers her birthday. Harley is sad at first but then realizes that she could use it to make her parents so guilty that they would let her ask for whatever she wants. And what she wants is "The Sweet Seat" in their family car.
The Sweet Seat is the special seat near the driver reserved for the oldest kid in the family. That means, it automatically goes to Rachel while Harley and the rest are forced to struggle for space in the back seats.
So, Harley decides to make sure that no one remembers her birthday. She sends Suzy on a downward spiral by messing with her hair to make sure it keeps her distracted. She asks Lewie and Beast to be her crash-test dummies for her skate kite. She asks Rachel to invite Cuff over so that Tom will be too busy chasing being overprotective. Georgie knows that today is a special day but Harley lies to her that it's the national high five day.
Unfortunately, Daphne remembers Harley's birthday because she keeps track of days they eat cake. Harley asks her to keep it down by Daphne blackmails Harley to give her money by threatening to tell other people. Harley thinks it's a joke. So, Daphne tells Ethan about it. At that point, Harley gives into Daphne's blackmail. Later on, Daphne blackmails Harley to give her her sweater or else she would tell Georgie.
Harley's plan starts falling apart when Suzy's hair drama doesn't go as horrible as Harley hoped. She destroys her mom's planner and gets punished to clean the bathroom. While cleaning the bathroom, she realizes that Rachel isn't going with her idea of inviting Cuff. She's done taking advice from someone dressed in garbage bags. After the punishment, Harley buys ice cream for Lewie and Beast if they agree to go to the park. Suzy goes to watch them at the park and ends up spending the entire time running after them. Perfect distraction.
When their dad returns home, Ethan is worried that he might remember the birthday. So, he stays close to keep him off track. When Georgie notices that it's Harley's birthday from the planner, she wants to speak out but Ethan shushes her. Ethan explains that Harley doesn't want anyone to remember her birthday. Georgie offers to keep Harley's birthday a secret but doesn't understand why Harley would do that. Later that night, she tells Harley that her birthday is her most important day in the year as it gets the entire family to get to just celebrate her.
Thanks to Georgie's push, Harley agrees to let her family know it's her birthday. They throw a little late night party to celebrate.
Harley may have lost the guilt points to get to The Sweat Seat, but sharing moments like these with your family is the most important.
Cast
Main cast
Continuity
Trivia
This is the first episode of the series to feature the show's theme song and opening sequence.
This marks Stuck in the Middle the first Disney Channel Original Series to have the lowest views on its series premiere with 1.6 million viewers.
Harley's fifteenth birthday will be depicted in Stuck in Harley's Quinceañera.
Georgie is wrong about the date of National High Five Day. She states that it was a week prior to Harley's birthday, which is April 22nd, 2016. However, National High Five Day 2016 is on April 21st - only one day prior, while Tax Day is shown to be a week prior to her birthday.
Additional details of the circumstances during Harley's birth with be revealed in Stuck in Dad's Birthday.
International High Five Day isn't a real holiday, while National Sandwich Day is in November.
Coincidentally, Harley was actually born on Earth Day which is annually celebrated on April 22nd.
Harley tries to find ways for her family to not remember it's her birthday.
Harley wants to use her guilt to get the sweet seat but learns she wouldn't get it until four years later.
Daphne eats Harley's cake.
Quotes
"
What? I can't believe it. They forgot my birthday. I mean, when you're the middle kid, being overlooked is part of the deal. But, my birthday? This is a new low!
"

—Harley
International premieres
April 22, 2016 (UK and Ireland)
June 17, 2016 (Spain, Portugal)
July 11, 2016 (Israel)
August 7, 2016 (Latin America, Brazil)
September 4, 2016 (Hungary)
Gallery
| | |
| --- | --- |
| | To view the Stuck in the Sweet Seat gallery, click here. |
Videos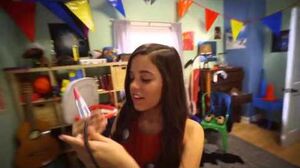 References