This article is about the pilot episode. For the TV series, see Stuck in the Middle.
---
"
It turns out, I didn't need one day. I matter every day!
"
Stuck in the Middle is the first episode in Season 1 of Stuck in the Middle. It first aired on February 14, 2016 to 2.81 million viewers.[1]
Summary
Avid inventor Harley is all set to accept a community award, but must first devise a way to get her family out of the house and to the ceremony on time.
Plot
Harley Diaz is the middle kid in a family with seven kids. She thinks of herself as Hump Day Harley because she is like the "Wednesday" of the family. Her older siblings - Rachel, Georgie and Ethan would be the start of the week; while the younger kids - Lewie, Beast and Daphne would be the end of the week. As a result, she feels left out. Even though she is a very creative inventor, she mostly goes unnoticed. She doesn't even get the best seat at the table. They don't even have a table big enough for all the seven kids and their parents, Suzy and Tom Diaz.
But today, Harley is hoping to change all that. She has a special surprise for her family at the park, and she wants them all to be there. The hardest part is getting the entire family at one place in time. She uses her Mom Tracker device to track where her mom is hiding in order to drink her coffee in peace. She tricks the rest of the family to speed up by shouting "donuts!" Disappointed, they all go back to their rooms.
She asks her BFTF (Best Friend in The Family), Ethan to help speed up the rest of the family. They can't afford to lose any minute because of their tight schedule for the day. They have to drop-off Rachel at a homeless shelter for a food drive; then go to Georgie's basketball game. Even though Georgie might not be good at playing, they have to be there for her. Rachel comes downstairs with a really short skirt, but Suzy does not approve of her fashion choice. Luckily, Harley was prepared for that with a pair of leggings.
On their way out to Georgie's game, the Diazes run into their judgmental neighbor Bethany and her single kid, Ellie Peters. Bethany makes fun of them for being such a large family. Ellie wishes she had siblings but Bethany doesn't allow her to hang with the Diazes or Harley.
While at Georgie's game, they learn that Rachel ditched the homeless shelter food drive and her boyfriend Cuff has taken her home. Since Tom doesn't trust Rachel being home alone with a boy, he decides that they must go home after the game to pick her up, before going to the park. To make things worse, Georgie's game goes into overtime. After the game and after picking up Rachel, they have to deal with Bethany again, telling them how unhappy the neighborhood is with their family.
Harley begins to give up hope of getting to the park that day. Since Ethan told her that she's the glue that holds her family together, Harley realizes that she doesn't need one day; she matters everyday. Nevertheless, Tom is determined to get to the park. He says that the worst part of having seven kids is disappointing one of them.
By the time the Diazes get to the park for Harley's surprise, the event is already over. Harley tells them that she was going to get an award for an invention she made. She shows her family the invention she wanted them to see. It is a remote-controlled conveyor-belt dinner table, large enough to accommodate the entire family. It has revolving plates, retractable cup-holders, and built-in ketchup and syrup dispensers.
The family is so proud of Harley for the amazing table she made for them. They sit down on the table at the park and eat donuts from the trash.
Cast
Main Cast
Recurring Cast
Continuity
Harley reveals that she has invented Mom Tracker 2.0 in Stuck in Lockdown.
Harley mentions her family's love for donuts later in Stuck in the Waterpark - The Movie. She later thanks them in Stuck in Harley's Quinceañera by calling them for donuts the same way - but this time, with actual donuts.
The conveyor-belt table that Harley reveals in this episode continues to be used throughout the series.
Ellie Peters goes on to become Harley's best friend.
Harley introduces Ethan as her BFTF (Best Friend in The Family). This is mentioned through out the series. In Stuck in a Besties Battle, it is finally explained how and when they became BFTFs.
Bethany leading neighborhood meetings for them to discuss the Diazes happens again in Stuck in the Babysitting Nightmare.
Harley complains about being the Wednesday of the Diaz family, but after Stuck in Harley's Quinceañera, she realizes that being stuck in the middle is not a bad thing. It means you get love from both sides.
Trivia
This episode is the preview that aired at 8:45pm after the network premiere of Frozen.
All the kids and parents are introduced.
The only episode where the long intro is not played. A shorter version showing the TV series' logo is shown instead.
Harley tricks her family by yelling donuts when there is no donuts to get them downstairs.
Harley tries to get everyone out the door in time because there is something important that is going to happen to Harley at the park.

But the family has to first go the soup kitchen and take Rachel there.
Then they have to go to Georgie's basketball game.
Then they have to go and bring Rachel home.

The Diaz family gets to the park too late.
Harley invents a table that has room for her large family. It would appear in subsequent episodes since.
The family sport utility vehicle is a 2000 Chevrolet Suburban.[2]
Quotes
"
This is what happens when there are seven kids and you're stuck in the middle. If my family was a week, I'd be Wednesday... I'm the day people muddle through as best as they can. Hump day. I'm Hump Day Harley
"
"
You're the glue of this family. Just like Wednesday is the glue of the week.
"
"
In a big family, you need rules. We all get three minutes. You have to do number one and number two in less than three. That's bad math!
"

—

Harley

, talking about bathroom
"
I'm literally the only one in this family who consistently looks hot. So, maybe don't hassle the one who's bringing it on the regular.
"
"
You're lucky we're family, or I'd hurt you! Daphne to Harley
"

—{{{2}}}
International premieres
April 15, 2016 (UK and Ireland)
June 10, 2016 (Spain, Portugal)
July 4, 2016 (Israel)
August 6, 2016 (Latin America, Brazil)
September 3, 2016 (Hungary)
Gallery
| | |
| --- | --- |
| | To view the Stuck in the Middle (episode) gallery, click here. |
Video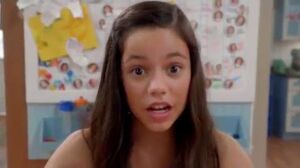 References