"
I didn't think you'd care that much. You're not mom. Sure, you get mad and stuff, but mom's the one that brings the punishment. It works for you guys. Why mess with it?
"
Stuck in Harley's Comet is the eighth episode in season 1 of Stuck in the Middle. It aired on May 13, 2016 to 1.3 million viewers.[1]
Summary
Harley decides to host an outside slumber party to watch a passing comet with her friends.
Plot
With Suzy and the littles out of town, Tom is left in charge of the bigger kids. He just wants to show the kids that he's a cool dad by letting them do whatever they want while he is watching the game. Harley takes this rare opportunity to invite her friends over for a sleepover and to watch a comet. She convinces Ethan to go with Georgie on her behalf to help Georgie get the special limited-edition Mikaela Mendoza basketball shoes Georgie wanted from her .
Rachel wants to go out by lying to Tom that she's going to the library. Tom is disappointed that Rachel put so little effort lying to him. Rachel tries to convince her dad to let her go by telling her that their mom is the one who lays the law. This only gets Tom to want to prove he's tough by grounding Rachel.
Harley's best friend, Ellie Peters arrives hours early for the sleepover. Harley takes her to her shared bedroom but finds Rachel inside, grounded. She tries to convince Rachel to let her have her sleepover but Rachel throws a shoe at them. So, Harley is left with nowhere to have her sleepover. She tries to get Tom to unground Rachel but Tom refuses. To get Rachel out of their room, Harley convinces Tom to ask Rachel to sit in the living room and do homework so that he can watch over her as part of the punishment.
Meanwhile, Georgie and Ethan are standing in line waiting to buy the Mikaela Mendoza limited-edition shoes when a little girl comes crying to them, asking them to give up their spot for her. After listening to her sad story, they agree and return home. Harley doesn't want them home yet. So, she tells them that the little girl tricked them with a sob story because they're too soft. Georgie and Ethan return to the line and try to use their own sob story but it doesn't work out. Georgie feels so guilty that she ends up giving her money to the person she was lying to. Stuck at the back of the line, they end up returning home with no shoes.
Back at the Diaz's living room, Rachel convinces her dad to let her watch her favorite show "Dancing With My Dad" during commercials. She ends up explaining the difference between "Dance Dads" and "Dancing With My Dad" to Tom. Before they know it, she starts teaching Tom how to dance.
Upstairs, Harley and Ellie get to the roof through the window to watch a passing comet. Unfortunately, the window latches behind. It becomes more of a nightmare because Ellie is afraid of heights. They have no way to let Tom and Rachel know that they're stuck there. When they see Georgie and Ethan returning, they throw shows at them to get attention but it only makes Georgie more mad at the universe for mocking her with shoes falling from the sky. Harley tries to use the objects on the roof to invent something that would get them down. But in the process, she interferes with the satellite wires, causing the TV downstairs to lose signal.
Tom is forced to come upstairs to check on the satellite dish. He finds Harley and Ellie trapped. He helps them out and threatens to ground them. Harley blackmails her way out of the grounding by asking Tom what Suzy would say if she found out that two kids got trapped on the roof for hours while Tom was busy dancing downstairs.
Cast
Main Cast
Recurring Cast
Guest Cast
Farrah Mackenzie as Sweet Girl
Mentioned Cast
Continuity
Trivia
This episode was released early on the Watch Disney Channel app.
Dancing With My Dad a parody of the hit ABC show Dancing with the Stars; and Dance Dads is a parody of Dance Moms.
This is the first time Tom appears without Suzy.
Georgie and Ethan helped a little sweet girl with a wild, but true story.
Harley and Ellie accidentally get locked out while having a sleepover to try to see a comet.
In this episode, the three youngest kids and Suzy were visiting their other grandmother, not Tom's whom they always identify as "Abuela.".
Starting with this episode cast members start to not to appear in every episode.
A bird constantly flies over the roof Harley and Ellie we're stuck on and keeps pooping around them, the bird eventually poops on Tom's shirt and Ellie's right foot and hand when the comet arrives.
Quotes
"
And this, my friends, is what it's like to not have to kidney-punch people to get to the milk. Even if it smells like cheese that's been left in a gym bag.
"
International premieres
July 29, 2016 (Spain, Portugal)
August 22, 2016 (Israel)
August 28, 2016 (Latin America, Brazil)
September 25, 2016 (Hungary)
Videos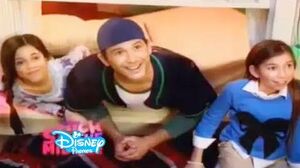 Gallery
| | |
| --- | --- |
| | To view the Stuck in Harley's Comet gallery, click here. |
References